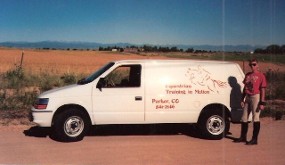 Equestrian Training In Motion began in 1990 in Parker, CO near Denver. Gina found there was a need for her to travel to the client. There is no reason to load your horse every time you want to take a riding lesson or get some training in. You and your horse get to learn at home, where you are both comfortable with the environment. No need to find a babysitter for your children, since you are at home. Everything is easier and it still only takes 45 minutes to an hour out of your day.
Over the last 26 years, Gina Collier has trained many breeds of horses from ponies to warmbloods. Always with the same theories and techniques in mind, dressage is quite successful for any horse. They can benefit regardless of the discipline that they are ridden in, example: Western, huntseat, jumping, endurance, etc. Gina also works with all types of riders, from children to adults. Beginners through advanced, all levels are welcome.
Now we are currently in Magnolia Texas, north of Houston. She drives her cute, blue HHR around, ready for any situation with most necessary equipment in the back.